8.Feb.2013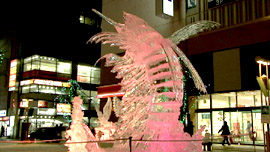 Open with Asahikawa winter festival. This is Ice figure world tournament.
Open day is a battle Feb.6 to 8. and Show day is a Feb.8 to 11.
Try figure group 22 personal 31. Just use ice battle.
Very cold day in keep battle. Hear to sound chai sow and saved cuter. Spit out white breath from mouth and nose.
Many kind of maked in Kaimono park. And light up in night time very nice ice figuer.
You see try maked ice figuer your self eye. maybe you surprised compleat ice figuer !