Mushroom hunting in July 2013
This time went to Koshiji Kamikawa town. It's a very deep forest.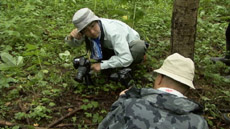 We meet soon down car after. It's a very easy. Everybody think can many type hunt Mushroom today. and keep going in walk to forest. Found keep again and again. Maybe by fall down raines some day ago. It's very good condition for mushroom.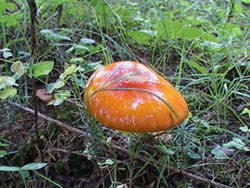 Look like a poison "Amanita muscaria" is can eat "Amanita hemibapha".

| | | | |
| --- | --- | --- | --- |
| | Shoot : July 2013. About 17min | | *Polyporus umbellatus fault. Polyporus true. Hydnum repandum fault. Polypores true. |

Mushroom Dr. Sato

[Back number]
Mushroom hunting in 2012.June Mushroom hunting in 2013.June
Mushroom hunting June Mushroom hunting in Ginsendai Mushroom hunting in 2011.Oct
Mushroom hunting of autumn 2010 Mushroom hunting of final 2010 2011 first Mushrrom hunting